Layered Zirconia
Our laboratory team offers several layered Zirconia options that are sure to meet your expectations for a high-quality and beautiful restoration. These crowns are a superior alternative to traditional metal-based options as they are not plagued by common esthetic complications, such as discoloration or dark metal appearing along the gingiva. Our team utilizes superior porcelain and Zirconia to ensure best results for every case. Our state-of-the-art laboratory is equipped with the latest technology, which guarantees that every case is fulfilled with accurate fit for a happy patient.
Micro ZR
Our Micro ZR restorations offer the esthetics that are typically expected of PFZs while lessening the risk of chips or porcelain breakage. These PFZs are fabricated by crafted a monolithic Zirconia crown with a micro cutback on the facial surface. There one of our technicians will expertly bond esthetic porcelain to this cutback. This technique allows for anterior esthetics without a full overlay of porcelain on top of a Zirconia substructure.
Apex PFZ
We are proud to offer Apex PFZ restorations. These porcelain-fused-to-Zirconia solutions are excellent options given their superior esthetics when compared to porcelain-fused-to-metal crowns. PFZs benefit from the inherent translucent esthetics of Zirconia, which serves as the substructure for the porcelain overlay. Instead of unveiling ugly discoloration, Apex PFZs will disappear alongside your patient's natural teeth for a beautiful smile.
Lava™
We offer a high-quality PFZ solution that utilizes a Lava™ Zirconia substructure beneath the porcelain. Lava™ combines the natural esthetics of glass ceramics with full-contour strength. These porcelain-fused-to-Zirconia restorations are fabricated out of the finest materials and offer superior results.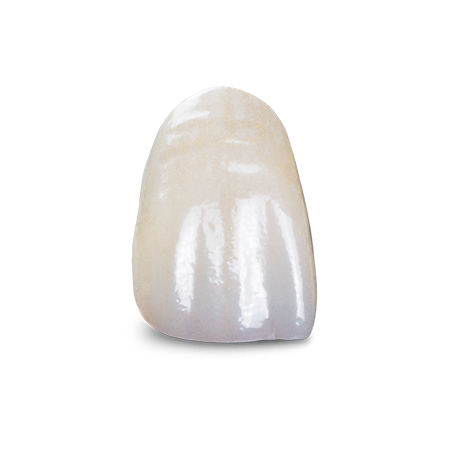 A CAD/CAM substitute for traditional PFM, our porcelain-fused-to-Zirconia can be used for anterior and posterior crowns, crowns over implants, and bridges of up to fourteen units.
Attachment cases
Cases with less than 1 mm clearance
Bruxism
Patients who have broken a PFM crown
Cases that require bonding

The ideal preparation for PFZs is a chamfer margin preparation. If a porcelain labial margin is prescribed, then a shoulder margin preparation is required. Feather-edge margin preparations are indicated for full-cast restorations.
Resin Ionomer cement (RelyX or RelyX Unicem, 3M ESPE)
Maxcem Elite (Kerr)
Panavia F 2.0 (Kuraray) - ideal for short, tapered preparations
Glass ionomer cement (GC Fuji, GC America)

If an adjustment is required on the ceramic, use a fine diamond with water and air to keep the crown cool. To contour the ceramic, polish with a pink rubber wheel and diamond polishing paste (Brasseler, Shofu, Vident).
D2740 Crown - porcelain / ceramic substrate